Hawkeye System - Model: HS2010
The Hawkeye system is the latest advancement in laser-based, non-contact measuring systems. Specifically, the model HS2010 is designed to measure the radial length of individual blade tips assembled into a jet engine compressor or turbine rotor rotating at high speed. The ability to measure the individual blade tips makes the Hawkeye System the ideal in-process gauging system for high-speed blade tip grinding and inspection applications. Its compact size allows for easy integration into various grinding and inspection machines. See the application page for examples of current installations.

Together with the relationships formed with machine tool builders, OEM grinding machine manufacturers, and machine retrofitters, a turn key solution can be provided.
Precision Measurement Systems
Key Benefits:
HS2010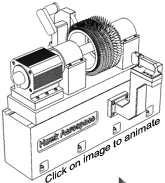 Applications


Copyright © Hawk Aerospace, LLC
|
|
|
(860) 659-8241
Reduced Cycle Time
Improved Quality
High Accuracy
Easy to Maintain
High Reliability